La tenue de la Coupe d'Afrique des Nations cette année au Cameroun n'occultera certainement pas la célébration de la jeunesse Camerounaise. Nous avons voulu vous présenter des profils exceptionnels, des pharmaciens d'exception qui dans leurs actions quotidiennes contribuent à hisser très haut les standards et les valeurs de la profession de Pharmacien au Cameroun, en Afrique et dans le Monde.
A cet effet, pour cette grande première, le plaisir est le nôtre de recevoir Dr. Hysantine ARREY qui en dépit de son agenda très chargé a bien voulu s'ouvrir à nous.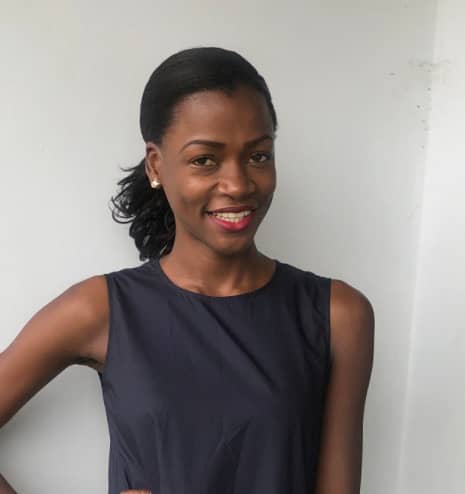 Q1 : Bonjour Docteur, tout d'abord permettez que je vous transmette les vœux de santé, bonheur et prospérité des membres du Cameroon Young Pharmacists. Par la même occasion, pourriez-vous svp vous présenter à nos lecteurs ?
Nom & Prénoms, Age,
First name : Hysantine
Surname : ARREY
Age : 35 years
Parcours scolaires, academiques, professionnels,
I am a PharmD holder and a Supply Chain Expert with over 5 years of progressive hands-on experience. I also have a B.Sc. in Biochemistry and a Post Graduate Diploma in Public Health Procurement and Supply Chain Management. I am recognized for careful, deliberate decision making and an analytical listening style. I have a rare ability to persuade team members by careful attention to detail, and through facts, data, and logic. I am fluent in English and have a good mastery of the French language.
I have acquired skills in health system strengthening, coordination & governance, rational medicines use, monitoring & evaluation, forecasting & supply planning, inventory control, distribution, capacity building and leadership.
As Deputy Director of Public Health programmes at the National Medical Store (acronym CENAME in French) in Cameroon, I ensure uninterrupted supply of health products of programmes by analysing stock, sharing reports on time, decreasing delivery lead time and efficiently communicating with all key stakeholders.
Fundamentally, I am emotionally intelligent, trustworthy and so passionate about saving lives. 
Q2 : Dites-nous comment s'est faite votre immersion aux études pharmaceutiques tout d'abord et au monde professionnel par la suite ?
From a very tender age, promoting wellbeing for all has always been a passion. This passion and my love for chemistry (especially organic chemistry) led me to Pharmacy studies.
Upon completion of my pharmacy studies, I was posted to the District Hospital in Akonolinga, few months down the line, I was transferred to the Regional Delegation of Public Health. While at the Delegation, I had a wonderful supervisor who made me fall in love with Health Supply Chain Management & Logistics.
I realised when all was said and done but the patient doesn't receive the right product, in the right quantities under the right conditions, at the right time for the right cost completely defeats the purpose. It just takes us down a rabbit whole. Thus, ensuring uninterrupted supply of health products was my main focus and remains my principal objective till date.
Q3 : En quelques mots pouvez-vous nous faire voyager au cœur de vos journées de travail ? En quoi consiste votre travail au quotidien
Typically, every day is different. Mostly by the end of each day, I make a list of what I am to do the next day in order of priority. Nevertheless, by the time I get to the office in the morning other things come up which takes me back to my four quadrants to reorganise my day based on what is most urgent and most important.
Being the president of the reception committee at the Central Medical Store, there are days I spend most of the day receiving health products at various warehouses. Some days I spend most of my time at strategic meetings. Other days, I spend most of my time communicating with various key stakeholders either through the phone or by emails. And there are days, I am glued to my excels sheets, analysing stock status, reconciling stock and evaluating key performance indicators.
Whether I'm on seat in the office or on the field I ensure health products are properly managed and there is continuous communication.
Q4 : Si vous devriez recommander 3 livres inspirants et 3 outils génériques de développement de carrière ce serait lesquels ?
The 5AM Club BY Robin Sharma
Emotional Intelligence 2.0 by Travis Bradberry & Jean Greaves
The Smart Money Woman by Arese Ugwu
Q5 : A votre avis quelles sont les 3 valeurs cardinales sur lesquelles un jeune Pharmacien peut s'appuyer pour s'épanouir dans le monde professionnel ?
Trustworthy
Passionate
Emotionally Intelligent
Q6 : Quel regard jetez-vous sur la profession de Pharmacien au Cameroun ?
The pharmacy profession in Cameroon is fast growing and it is made of very intelligent/smart pharmacists with great ideas. If we can truly come together as one body, we will do great things not only in Cameroon but the world at large.
Q7 : Qu'est ce qui à votre avis manque à la profession de pharmacien pour connaitre un véritable essor
Q8 : S'il vous était donné de formuler des recommandations aux instances attachées à la profession de Pharmacien au Cameroun et en Afrique que diriez-vous ?
Partner with key stakeholders to identify, assess and resolve barriers to medication access, adherence and health literacy.
Lead and advocate for comprehensive medication management in all healthcare settings.
Advocate for adjustment of school curricula to ensure that our workforce has the necessary knowledge and competency to adapt to emerging healthcare needs.
Come up with individualized continuing professional development plan for pharmacists.
Q9 : Pour vous quel est le meilleur moyen de célébrer la Saint Valentin ?
Romantic Dinner/fresh flowers
Q10 : De tous vos souvenirs, quel est celui qui vous réjouit le plus quand vous y pensez ?
My favourite past time is being in the company of loved ones